This blog was supposed to be written over the Christmas break in between Italian feasts and northern delights, but unfortunately it didn't happen.
For those of you that don't know, 2017 was a big fundraising year for me. I set myself a challenge to run ten x ten kilometre runs over the course of the year, with the extra challenge of getting under ten hours time for the lot. As always my fundraising was for the wonderful Nordoff-Robbins Music Therapy Charity. And I was hoping to make around £300 towards the incredible work they do there, transforming lives through music.
https://www.nordoff-robbins.org.uk/
I had finished 2016 with a new PB of 57.02 and was desperate to continue my fast streak, and so my first run of the year was a chilly Saturday morning in Victoria Park and it turns out I run quite fast when it's cold but calm.
Race 1: Victoria Park Saturday 14th January 2017: The One Where I got a PB!
With my musical socks, skirt and scarf on, and a banner on my back explaining my fundraising goals, I set off wearing number 1333 for my first run of the year. Sadly, my charity t-shirt was hidden underneath the long sleeved layer I had to wear as it was a trifle cold that morning. But I was wearing it.
And so, with no kilometre markers, only mile markers, and a three lap course, I set off feeling confident and just wanting to get under the hour. As I passed the mile markers, I realised I was actually going quite fast and tried to keep up the pace. This was the run where I actually realised that 10 km is not 6 miles, it's actually 6.2 miles - I know, I've done a lot of these races and should have noticed that sooner, but when you deal with kilometre markers then you just don't question it. And so, I actually passed through 6 miles at about 54 minutes, not realising that I had another 0.2 of a mile to go. Anyhoo, I crossed the line in 56.18, smashing my previous PB and making a great start to the challenge.
1 race down, 9 to go and currently 3.42 under time. Whoop!
With my medal and banana at the finish. Happy Helen.
Race 2: Lee Valley Velopark Saturday 25th February 2017: The One That Broke Me
I knew this race would be tough, as I had run the Velopark mile before as part of the Newham Anniversary Run, which runs every year in July to mark the anniversary of the 2012 Olympic games. There are a lot of ups and downs and it would be six laps of the same mile course, with those extra 0.2 of a mile at the beginning.
What I hadn't factored in was that we were being visited by various storms that week. I think it was the tail end of Doris and the beginning of Ewan, which made an already tough course, even tougher. And the only flat, straight bit, had the wind pushing against you. This run was not fun. I was not happy. The least said, the better.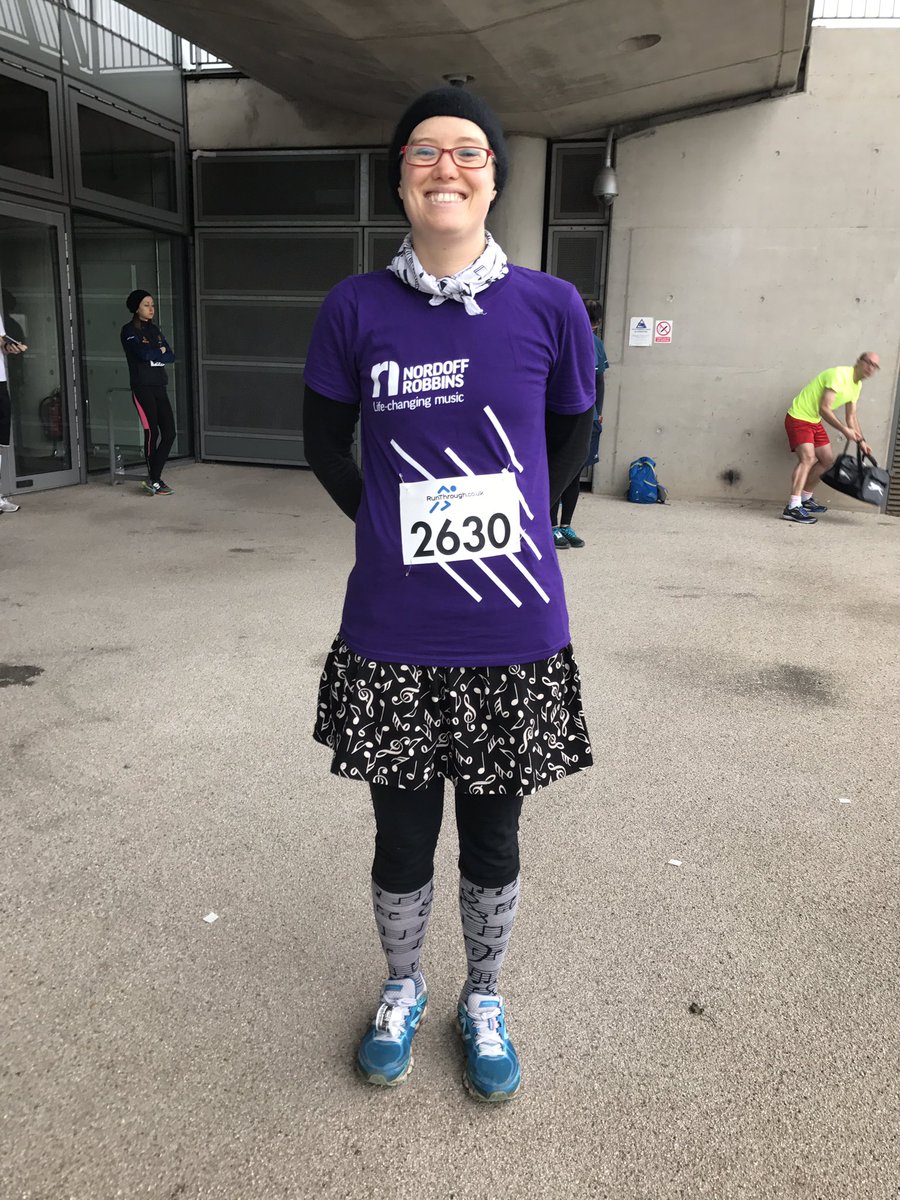 I hadn't even brought my phone with me to take a photograph, but a lovely fellow runner, pinned my fundraising message on my back and sent me this photo on twitter. Thank you for that.
However, with a time of 61.25. Boo! And extremely sore legs, this was definitely one to forget.
2 runs down, 8 to go and currently 2.17 under target.
Run 3: Hyde Park Sunday 26th March 2017: The One That Felt Really Tough
The only picture I have from this run is a professional photo that I bought afterwards. Usually I don't bother but look at me beating all those men. Ha ha. Anyway, you'll have to take my word for it. I was cold, I was tired and it felt much longer than two 5 km laps, but I made it in 58.36 and it was good to be back under the hour.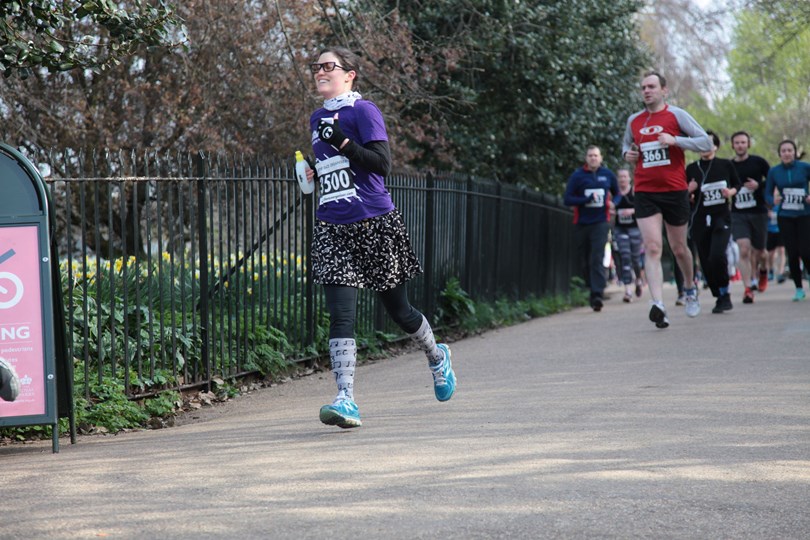 3 down, 7 to go and currently 3 minutes 41 under time.
Run 4: Peckham 10 km Saturday 6th May 2017: The One With That was Badly Organised
Oh dear this run was badly organised. From the mile long queues to be told your running number, only to then have to queue to pick up your physical number, to the quest to find which tree was the start line, this was an interesting one. No official timing, so I had my timing watch and some very inconsistent kilometre markers.
Apparently this tree is the start line. Who knew?
Here's me on the sprint finish.
And here's me and partner after finishing. I'm not going to lie to you, I prefer running alone. But on a day like that it was lovely to have someone to vent frustrations with and laugh it out.
4 down, 6 to go and currently 5.11 under time.
Race 5: Vitality 10,000 Green Park Monday 29th May 2017: The One Where I was Ill
I love the Vitality 10,000 run every Bank Holiday at the end of May. I run it every year regardless of whether I am fundraising. I love the course, which is fast and mostly flat. I love the big event feeling. And despite feeling terribly ill and knowing I probably shouldn't run, I did anyway. And I am so glad I did! Finishing in 58.27 without the ability to breathe through my nose, was definitely an achievement and of course I will be back there this year at my favourite run.
5 down, 5 to go and currently 6.44 under time. Half way!
Race 6: Turks Head 10 km Sunday 11th June 2017: The One That was Extremely Hot
I was supposed to run this race with a friend and then my partner, but due to illnesses and other reasons, I ran it alone. And they called it a fun run, but for me it was anything but fun, it was about times and the challenge and waiting minutes to cross foot bridges, and on one of the hottest days of the year so far, I found myself melting.
To finish with a time of 60.01 was actually quite impressive as I had to wait at various river bridge crossings and at times we were running in the roads dodging traffic and other runners as the pavements were super narrow. But it was definitely a change from the hyper organised Vitality run.
6 down, 4 to go and currently 6.43 under target.
Race 7: Newham Anniversary Run Sunday 2nd July 2017: The One Where I was Over the Moon
I have run this race four times out of the five it has been run, and I have always struggled due to the heat and that pesky mile in the Velopark, but this year I finally made it under an hour, and not just under an hour: 57.52. I was delighted! And we usually finish in the Olympic stadium by running 300 metres on the track, but as they were preparing for the Para World Athletics we instead sprinted the 100 metres. Usain Bolt eat your heart out.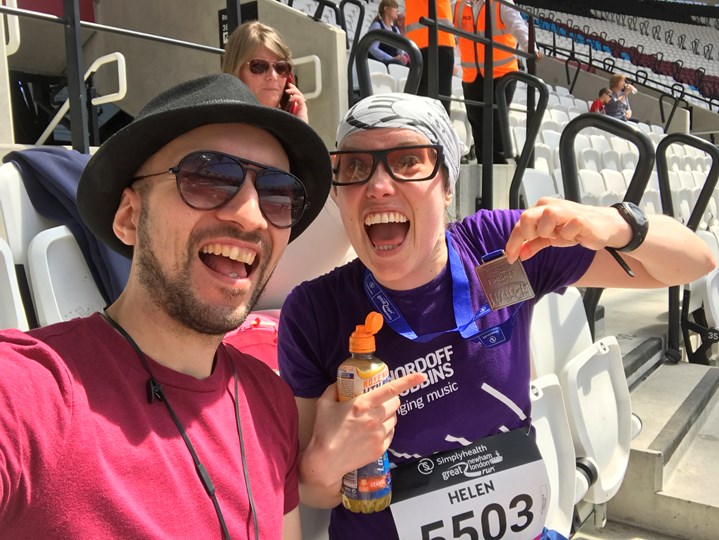 7 down, 3 to go and currently 8.51 under time. Whoop!
Race 8: Lee Valley Velopark (Again) Saturday 30th September 2017: The One Where I Defeated the Velopark
Believe me, I did not want to brave the Velopark races again. It is an evil course and I still had the lingering memory of February's race in my mind. However, due to various weekend commitments, I had few other options and so I braved the Velopark for the second time.
This time I had a little sunshine and a bit of wind but no storms chasing me. And I smashed that course finishing in 57.13 which was my third fastest time ever at a 10 km. Yes! Yes! Yes!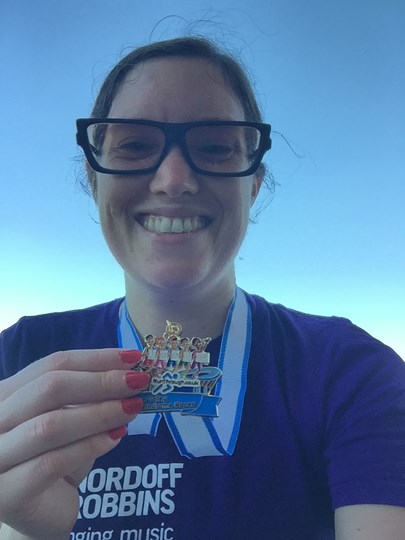 8 down, 2 to go and currently 11.36 under time.
Race 9: Virtual Run Hampstead Heath: Sunday 22nd October 2017: The One Where I Smashed my PB
You might be thinking, virtual run? What? It was purchased for me by a friend for my birthday and I had to run in October and prove I had run a certain distance in order to claim the medal, which was a Nightmare Before Christmas themed medal with Jack Skellington on it. Cool or what? So I used a GPS timing watch and set off on Hampstead Heath, with no clear race path, and just kept going until we hit 10 km. (My partner was with me.)
I knew we had set off fast but I had no idea how fast until we completed just over 10 km in 55.32. Say what?!
9 down, 1 to go and currently 16.04 under target. Yes!
Normally, I would have run the Trick or Treat Halloween run as part of my challenge, however this year they changed it to a 5 km race. Boo! But anyhoo, I got a new PB at 5 km (26.02) after a night out - not too shabby - and here is a picture of me dressed as a pumpkin.
Race 10: Olympic Park Sunday 10th December 2017: The One Where it Snowed
And so to the final race of the year and I was back at one of my favourite places in London: Olympic Park. This was the course I had run last year and gained a huge PB at, and so I was confident and also knew I had a lot of leeway with the time. However, I did not counter in the snow factor.
My feet were soggy throughout. The slush and wet floor was slippery, and even the tube failed us, so I only arrived five minutes before the start. I had just enough time to pin on my number and go. No warm up, no stretches. Eek.
It snowed the entire time and my feet were practically numb, but actually running in the snow was tough but fun. I had never run in the snow before and I even met an elf along the way who had a nice chat with me.
To finish in under an hour, in those conditions was a proud moment, and not only that, but the end of my challenge for the year. And I smashed it! Finishing that race in 58.43 meant that after 10 races, my culminated time was 9 hours 42 minutes 39 seconds, which was 17.21 under target.
I would like to do a huge shout out to
http://www.runthrough.co.uk/
who are a fantastic race organising team and four of my ten charity runs were taken care of by them. They are fantastically run and always full of helpful, supportive volunteers. I love my banana after the race and all the great themed medals.
Also, a huge shout out to the Vitality 10,000 which is a wonderful run that I take part in every year. If you like a big race and want to feel part of something huge, then the course is flat and fast and so well organised. I love it.
https://www.vitalitylondon10000.co.uk/
Finally, I raised a whopping £354.94 for Nordoff-Robbins and would like to thank all my sponsors and friends who have supported me along the way. What a great year of running and I may be getting older, but I seem to be getting faster too. Bring on 2018!
https://www.justgiving.com/fundraising/Helen-Richards16
Thank you for reading.
Rants (Helen)